Most everyone has heard the quote behind every good man is a great woman.... Well in my case, I have been blessed with the example, instruction, and unconditional love of 2 grandmothers, one mother, and the most amazing wife on the planet.
There will definitely have to be a fish sighting in this blog post somewhere. But this being Mothers Day, I can't help but reflect on the four women who have shaped my life. These women have changed my diapers (someday Brook your time for that may come...), given me lots of spankins, hugs, kisses, prayers, instruction, encouragement, and taught me the most important thing in life is to Love the Lord my God with all my heart and to love my neighbor as myself.
This is one of thousand examples of my support network, but on Friday we were out of vehicles at work due to lots of fish deliveries in diverse places. At 10 pm Thursday night I make a phone call to my mom to see if she could bring her van into town at 6:30 am for me to take to some consultations. Then one of the guys would take her back home at 7:45 on the way out to Fairview, IL....So anyhow pulling up to consultations in El Paso and Laura, IL in her minivan was definitely hard on my ego, but we got er done....
Here is Grandma Herman holding a Hybrid Striper last year.
Back when Michael Jordan and Dennis Rodman were playing for the bulls I would go over to grandma Herman's house every week and watch the bulls games with her....We didnt have cable tv at home so my mom would drive me over there and grandpa would bring me home after the game!! She really got into those games!!!....in fact my life dream (at that point) was fulfilled when I actually got to go to a Bulls game and watch the Bulls play.....I was 6 rows off the court and made a sign that said My Grandma Loves Rodman! Yep, the whole world got to see that sign on TV!! My cousins taped the game for me with my 5 seconds of fame, but I lost it a couple years back....still got the memory though, as a junior higher that was the greatest moment ever.....
Check out this video of me spending time with my grandma Meister a few years back seining fish, feeding fish, and even getting her to put a fish in her mouth to let a big fish come and give her a kiss...
So my mom and grandma's are 3 pillars who have shaped my life... I actually was destined to be a single mountain man surviving off the land until my senior year of high school and this girl made me forget my name and stumble over things every time she came near.... Somehow I couldnt keep living life without this particular girl captivating 95% of my thoughts... my plans I had for myself of living off the land were ruined....
I can't technically say that I married my high school sweetheart because she would have had to feel the same way back in high school to be considered sweethearts...probably more correct to say I married the girl I stalked in high school... To this day people still wonder (and have the nerve to ask out loud) how I was able to marry this girl who is WAY out of my league....
Brook has a hard lot in life raising not only 3 young children, but also one full grown child..... Her life was flipped just as upside down as mine was when we got married....She is from the city and I am from the country... we have mixed our lifestyles pretty well, BUT I have alot more pics of her in my element than me in her element: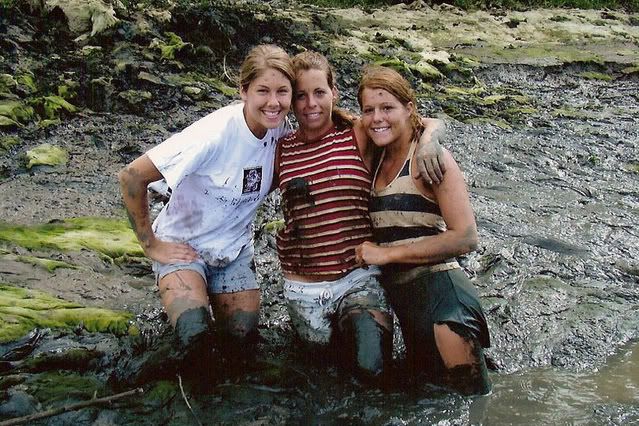 I can't imagine living this life without her and thank God every day for taking care of me with her...